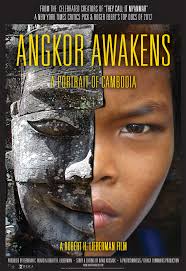 WAR and GENOCIDE, SURVIVAL and HEALING: CONVERSATIONS ABOUT CAMBODIA:
United Khmer Students (UKS) at UCLA has the great honor of launching the North American University Screening Campaign of the Khmer Film Series WAR and GENOCIDE, SURVIVAL and HEALING: CONVERSATIONS ABOUT CAMBODIA. The documentary film ANGKOR AWAKENS will be showcased, highlighting Cambodia as a microcosm of the world's international geo-political landscape. After the screening, there will be an interactive panel discussion consisting of UCLA faculty, along with Cornell physics professor, novelist, and award-winning director, Robert H. Lieberman.
Date: Tuesday, November 6, 2018
Time: 6PM-8:30PM
Location: Bruin Viewpoint Room
Please RSVP for FREE ADMISSION:
https://goo.gl/forms/ffmNpc0Ba57NIYzH3
For EVENT DETAILS, please visit:
https://www.facebook.com/events/350089962202859/?ti=icl
Angkor Awakens: A Portrait of Cambodia will introduce audiences to Cambodia's history; specifically, the Cambodian genocide, its effects on the Cambodian community, as well as the efforts taken to revitalize the culture lost in its wake. The goal of this film screening is to not only inform the UCLA community of our culture, but also to spark discussion on coping with trauma, the refugee experience, and what it means to be Southeast Asian. Ultimately, this event will serve as a bridge to bring people, whether or not they are Cambodian, Southeast Asian, or refugees/children of refugees, together to share their backgrounds and experiences.
For more information or any questions and comments, please email:  ukspro@gmail.com
DIRECTIONS & PARKING:
Address for UCLA Screening of ANGKOR AWAKENS: 308 Westwood Plaza, Los Angeles, CA. 90095
Closest Park Lots: PARKING LOT STRUCTURE 4 or 8. Parking starts at $3.
Bruin Viewpoint Room is on Level A. The room is in the building across from the BRUIN BEAR.
For additional assistance, pls contact the Student Union at: 310.825.7711, Press 0.
Doors open at 5:30pm. Program begins at 6pm.