Lucy Mae San Pablo Burns
Associate Professor & Graduate Advisor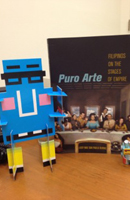 Affiliation:
Areas of Expertise:
Phone:
310-825-7625
Email:
lmburns@ucla.edu
Office Location:
3336 Rolfe Hall Box 957225 Los Angeles, CA 90095
Education:
Ph.D., University of Massachusetts at Amherst, 2004
B.A., California State University at Sonoma, 1993
A.A., Porterville College, 1991
Research Interests:
<!- View not found -> <!- View not found ->
BIOGRAPHY
L MSP Burns is an Associate Professor in the Asian American Studies Department at UCLA, a land grant institution in the homeland of the Gabrielino/Tongva peoples.
AREAS OF INTEREST
Burns's writings include Puro Arte: Filipinos on the Stages of Global Empire (NYU Press, 2014 Outstanding Book Award in Cultural Studies by the Asian American Studies Association) and the co-edited anthology California Dreaming: Place and Movement in Asian American Imaginary (2020, University of Hawai'i Press). Burns is working on a second monograph, Asian American Elsewheres.
As a dramaturg, Burns has collaborated with BIPOC inter/multidisciplinary theater- and dance-makers David Rousseve/REALITY; Leilani Chan/TeAda Productions; Priya Srinivasan; Jay Carlon; and R. Zamora Linmark.
Burns is also a member of a research group consisting of artists, scholars, and art professionals who have been conducting research and conversations about the impact of COVID-19 closures and the COVID-19 pandemic on BIPOC theater artists and organizations. Information about this project may be found here: https://www.bipoctheatresurveys.com/.
Selected Books and Publications
Book:
Essays:
Burns, L. MSP. (2022) "Confronting Worldly Acts: Filipinx Performance and their Elsewheres." in Filipino American Studies: Reckoning, Reclamation, Transformation. Edited by Rick Bonus and Antonio Tiongson, Jr. New York, NY: Fordham University Press, 2022.
Burns, L. MSP. "Masagana 99: Beyond Seeds, Grains, and Stalks." Alon: Journal for Filipinx American and Diasporic Studies, 1(3). (2021).Alongside official policies and speeches declaring and steering official national identity, I turn to songs and dances as affective and performance archives that strategically rouse and structure our feelings of belonging to a cohesive and stable national culture. More broadly, I track the crafting of a Filipino/a national subject through state reliance on sedimented (and thus value-laden) forms such as 'national traditions' and 'folk cultures' to make possible the idea of a laboring and productive citizenry. I ask: How do traditional dances and songs sustain and indeed supplement the ambitions of government initiatives implemented during Ferdinand Marcos's martial law, such as the rice production program Masagana 99? How do the timeless assemblages of performance shore up the edifice of an embattled yet resilient nation-state? As we commemorate the afterlives of Martial Law, I return to such fragments of embodied memory with adjacent governmental policies of the time to underscore the complex scope and scale of Marcos's dictatorship and relay these scenes as seeds of struggle, labor, and resistance.Burns, L. MPSP. (2021). "Asian American Feminist Performance." With Mana Hayakawa. In Oxford Research Encyclopedia, Literature. Edited by Josephine Lee. Oxford University Press, 2020. Acknowledging "absence" as a powerful and accurate political charge against the continuing exclusion of Asian Americans in American theater, dance, and the larger mainstream US performance landscape, Asian American feminist performance has inspired a critical mass of articles and monographs. A broad range of works by feminist performance scholars address productions that center on Asian American women, gender, and sexuality, exploring and contesting Asian American subject formation. Although they provide different ways of thinking about feminist approaches to Asian American performance, all emphasize how racialized bodies are produced within specific historical and political conditions and invested in resisting cultural limitations and interrogating power. Whether drawing on theater, dance, music, drag, or performances of everyday life, this scholarship can provide a glimpse of the critical concerns of overlapping academic fields. Whether mapping theoretical frameworks, archival politics, uses of dance as a method, epistemologies of the body, fandom, affect, or alternative or unconventional performance spaces, Asian American feminist performance studies scholars move away from rigid definitions of identity, form, geographic location, and audience. At the intersection of Asian American, performance, and feminist studies, the multiple strategies of feminist praxis—such as archiving and analyzing historical documents, foregrounding bodily performance alongside text-based materials, and reconceptualizing theoretical and artistic paradigms—signal the capaciousness of the categories "Asian American," "feminist," and "performance."
"Eartha Kitt's Waray Waray: The Filipina in Black Feminist Performance." In Filipino Studies: Palimpsests of Nation and Diaspora. NYU Press.Analyzing Eartha Kitt's rendition and embodied performance of the song "Waray Waray," this essay tracks the "multidirectional cultural flows" in the geography of U.S. cultures of empire. Delgadillo)
DRAMATURGY and CREATIVE RESEARCH (Selected)
Impact of COVID-19 Closures on Black, Indigenous, and People of Color Theatre Practitioners (BIPOC) and Black, Indigenous, and Theatres of Color (BITOC). The surveys were formulated and distributed as the pandemic shut down theatres and canceled theatre-maker jobs as the country experienced eruptions naming racism, anti-Blackness, and other discriminations against BIPOC (and/or People of the Global Majority, terms that overlap but are not interchangeable). (current-2020)
Airing History, a timeline installation on Pilipinx migration to the U.S. This installation is a collaboration between the Pilipino Workers Center, artist Tala Mateo, and Professor L. MSP Burns. (current)
Dramaturg. Becoming, a multimedia dance performance by Dr. Priya Srinivasan. (Melbourne, Australia; 2020-2021).
Dramaturg. Flex, a multimedia dance theater piece by Jay Carlon (Los Angeles, CA, 2019).
Co-organizer. Delightfully Short: A Night of Play Reading. Santa Monica Playhouse's Binge Free Theater Festival. Plays featured: "Digong and the Donald Play Slapsies" and "Visitation." (Los Angeles, CA). (October 2019).
Curator. For Her: Tiffany Lytle's Qnoum Kaun Khmer/I am a Cambodia Child and Joy Alpuerto Ritter's Babae. In an evening of two performances drawing movement and musical influences from contemporary dance, hip hop fusion, pop music, jazz, and Southeast Asian folk and traditional dance performance and stories, Lytle and Ritter both dynamically present Southeast Asian women in the diaspora in their solo pieces. (Los Angeles, CA; 2018).
FORTHCOMING:
Burns, L. MSP. "Theater of the American Tropics" in Milestone in Asian American Theatre. New York, NY: Routledge Press, 2023.Allan Isaac has offered the term "American Tropics" to describe how the U.S. claimed ownership over island nations such as the Philippines and Hawai'i in the late nineteenth and early twentieth centuries, broadening its reach over colonized lands and people as part of an imagined national identity. This essay looks at how U.S. imperial presence in the Philippines and Hawai'i inspired popular works of American musical theatre such as George Ade's The Sultan of Sulu (1902) and Richard Walton Tully's The Bird of Paradise (1907) which influenced lasting impressions of the Philippines and Hawai'i. The chapter then turns to contemporary theater works by and about the people of U.S. territorial occupation, surveying Asian American theaters such as East West Players, New WORLD Theater, Pangea World Theater, Silk Road Theater, and networks such as MENATMA (Middle Eastern and North African Theatre Makers) and SWANA (Southwest Asian North American) theater organizations. These collaborations, as well as the 2003 theatrical adaptation of Jessica Hagedorn's critically acclaimed novel Dogeaters and Robert Farid Karimi's performances of Self (the Remix), challenge colonialist and imperialist narratives and serve as reminders that Asian American theater does not exist solely with the U.S. mainland.
Awards
Woodrow Wilson/Andrew Mellon National Foundation Career Enhancement Fellowship (2008-2009)
The UC President's Postdoctoral Fellowship (2003-2005)
Additional Resources
---
https://asianam.ucla.edu/wp-content/uploads/2019/04/ucla-asian-american-studies-logo.svg
0
0
webteam
https://asianam.ucla.edu/wp-content/uploads/2019/04/ucla-asian-american-studies-logo.svg
webteam
2018-08-06 11:07:30
2022-07-28 14:35:23
Lucy Mae San Pablo Burns