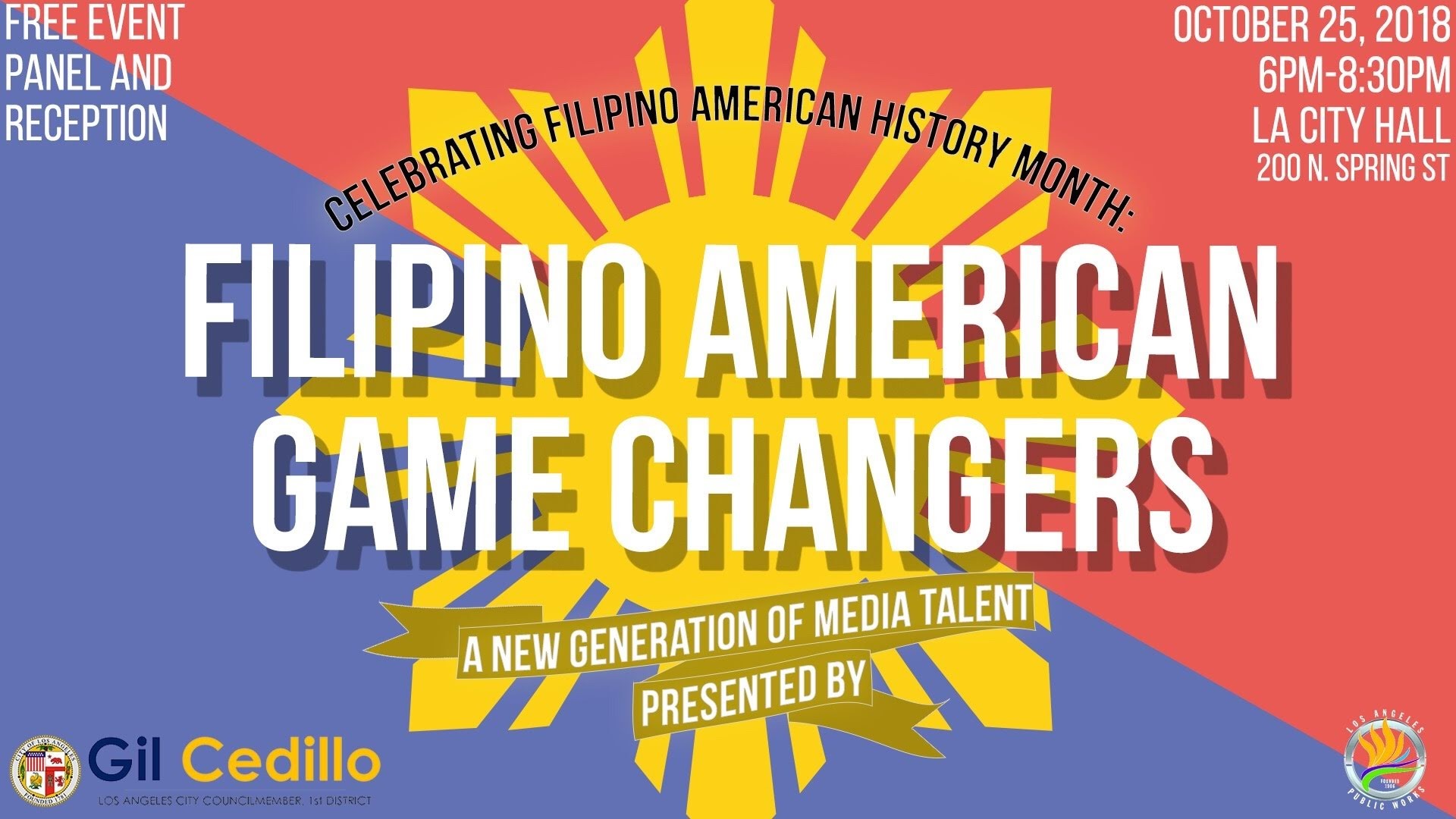 In celebration of Filipino American History Month, we welcome you to Fil-Am Game Changers! In partnership with the office of Councilmember Gil Cedillo by way of Tony Ricasa and Mel Ilomin and Board of Public Works by way of Commissioner Joel Jacinto — the City of Los Angeles honors Filipino American Game Changers who have paved the way in mainstream media. Join us for an intimate night of insight in the industry and networking with the personalities and companies like 93.5 KDAY, Pixar Animation and more!
Reception begins at 5:30p and panel begins at 6:30p.
Networking opportunity will begin promptly after at 7:30p. Refreshments will be served!
Panelists Include:
AJ Rafael -Singer, Songwriter, and YouTube Talen
PJ Butta – 93.5 KDAY On-Air Host and DJ
Giselle Tongi – Actress, TV Host, Singer and Model
Ricky Nierva – Production Designer, Arts Director of Pixar Animation Studios
Please note that this event is FREE to the public, but RSVP is needed for entry: https://filamgamechangers.splashthat.com/
To reach 200 N. Spring Street (City Hall):
From the North, take the 101 freeway, exit on Los Angeles Street.
From the South, take the 110 freeway, exit on Temple.
Directions to City Hall + Parking Instructions:
The Parking Structure can be entered from Los Angeles Street heading south between Temple and First Street.
You must check-in at the kiosk.
You will be directed to drive underground to the P2 level.
Take the elevator to the 3rd floor.
Cross the Bridge and then take the elevators to the 4th floor.
We are located on the Fourth Floor Room 470.
Facebook Event Page: https://www.facebook.com/events/747698765562762/
Follow us on Instagram: https://www.instagram.com/filamgamechangers_la/