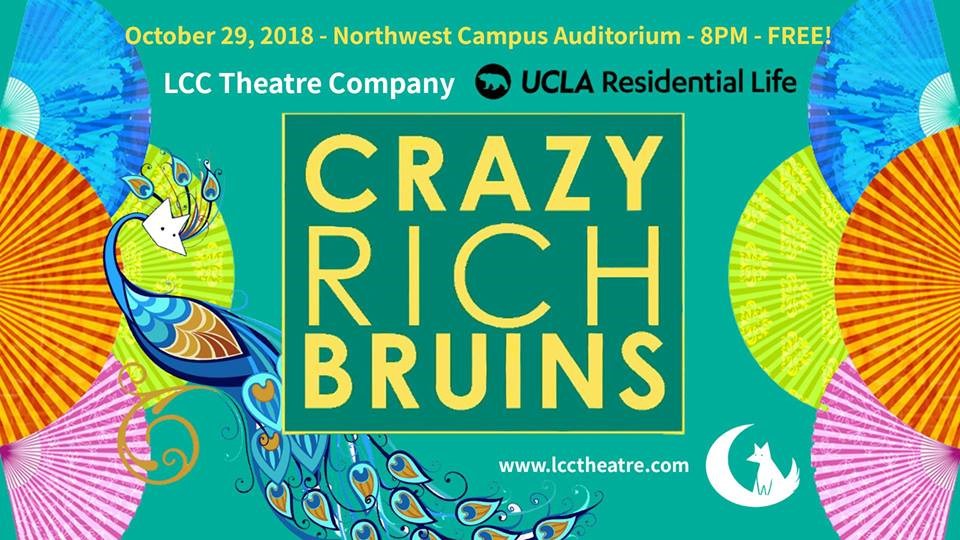 LCC Theatre Company and UCLA Residential Life presents
CRAZY RICH BRUINS
Asian Americans in Entertainment
Are you interested in learning about Asian American representation in the media? Or maybe you want to know more about careers in the arts and entertainment industry. Perhaps, you are simply intrigued by the prospect of our wonderful UCLA alumni sharing their valuable knowledge and life experiences.
Whatever it may be, you are definitely welcome to spend this lovely autumn night at LCC Theatre Company's Crazy Rich Bruins: Asian Americans in Entertainment!
PANELISTS:
JANET LO – Culinary Producer and Food Stylist, The Food Network
CAROLINE PARK – Filmmaker
STAN PHAM – Director of Current Programs, CBS Entertainment
ANISHA ADUSUMILLI – Actress, New Girl; Yappie
TIM CHIOU – Actor, iZombie; Silicon Valley
Oh, and did we mention that it's completely FREE!!!!
Refreshments will also be served! Just bring your student ID!
WHEN: Monday Oct. 29, 2018 @ 8PM (doors open @ 7:30PM)
WHERE: Northwest Campus Auditorium
LCC Theatre Company is UCLA's Asian American theater company dedicated to giving voices to the voiceless and promoting diversity in the arts and entertainment. To learn more about our mission, visit our WEBSITE.